Sometimes, a frame comes along that puts you through a few more paces than usual. The
GIOS-rebadged 1984 Raleigh (UK) Competition 12
has been one of those bikes, though worthy enough to justify the effort and time.
One of the rear stays was bent in. No problem. But then the seat stays came to note.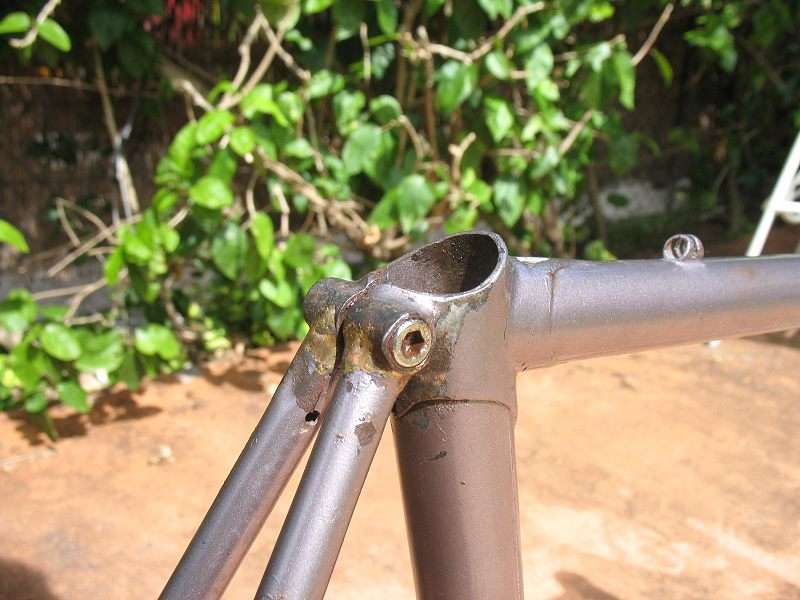 The Raleigh "shot-in" seatstay design used on the Competition 12 (and all models in between up to the SBDU Team Replica 12) is a breathtakingly beautiful case of form over function. Unfortunately, Raleigh's framebuilders rarely filled these stays with enough brass, resulting in a design that was also crack-prone.
Upon close inspection, I realized that the left stay had already been repaired once due to insufficient brass penetration, and the right stay needed urgent attention. Very well; seeing that the frame was already poorly repainted with GIOS decals, the time was ideal to put a proper fillet of brass over both stays - ensuring that they will remain solidly attached - and strip off the old paint.
And here they are, filled in and filleted as they should have been since day #1.
One thing is for sure - filing and shaping the brass is hell to the fingers. My thumbs are still numb as of typing this post.
I love these easter eggs - finding a "REYNOLDS 531 BUTTED" stamp. Notice the interesting layering of the paint - Raleigh's bright red primer, followed by a medium teal basecoat under the
final "Iridescent Green" topcoat of the Competition 12
(and the lousy lavender repaint on top of that).
A quick primer has everything looking much nicer now, doesn't it?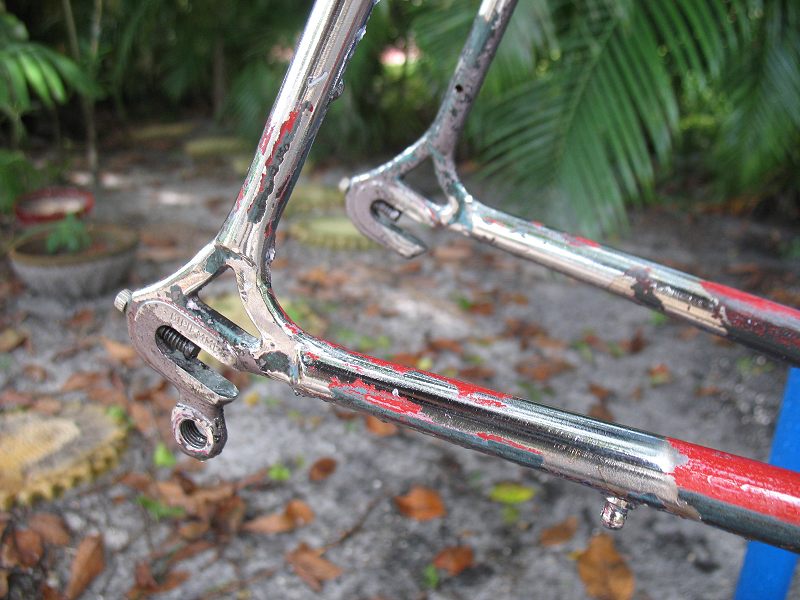 Even the rear stays are partially chromed, though only the axle contact areas on the dropouts are left exposed.
Now
that's
how these "shot-in" stays should have looked to begin with.
So it looks like I'm out of the woods now, eh? Not so. I'd been concentrating so much on the back end, I forgot to look at the front. The headtube is completely off alignment with the rest of the frame, necessitating a quick trip to the frame table.
It never ends, does it?
-Kurt